About eba Programs 

eba is dedicated to cultivating, promoting, and developing an understanding of and public
interest in the performing, visual and technological arts; through creation, performance, training, touring and idea sharing. Of equal importance, we endeavor to cultivate an understanding of the inherent creative potential within each of us and to integrate these creative aims with daily life.
eba began as an artist collective in 1973. From its simple beginnings, eba has grown into a multifaceted arts organization that is intrinsically woven into the artistic fabric of our Capital Region  Community.
To accomplish our mission, five distinct programs presently operate under the eba umbrella:
  •   eba Center for Dance and Fitness   •   Kids Dancspace @ eba
Maude Baum and Company Dance Theatre   •   everything but anchovies Dance Theatre
eba is able to continue with the generous support of our community. Contributions are tax deductible as eba is a 501(c)(3) charity.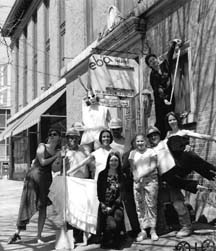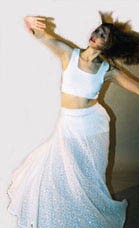 eba is...
Maude Baum and Company Dance Theatre, eba's ensemble that creates, performs and tours American Dance Theatre regionally and internationally. The Company's acclaimed repertoire sparks interest and enthusiasm for the art form of dance wherever they perform.
eba Dance Classes, eba's school for adults  offering dance, fitness, ethnic and theater classes in a non-competitive environment.
everything but anchovies Dance Theatre, eba's Arts-in-Education company which performs, teaches and conducts short and long term in-school residencies to bring performing arts to children. eba tailors each residency to assist teachers with education through the arts. Performances are educational, entertaining, original, and directly linked to NYS Learning Standards.
Kids Dancspace @ eba, eba's school of creative learning where teaching artists share dance technique, dance making and performance skills with children 3 - 12. Kids Dancspace offers satellite dance programs in schools and community centers. K - 12 grade programs are available. Creative Arts Summer Day Camp for kids ages 7-12 occurs during summer.