ISADORA DANCES (circa 1900-1915)
Isadora Duncan
"Baum's complete surrender in 'Butterfly Etude' was magical, transforming her into a fluttering, pale yellow moth near a flame. Her light skips-into-quick-runs were so fast that the wind she generated seemed to lift her into flight."     -Constance Valis Hill, The Daily Gazette

The simplicity of the historic dances by American's first Modern Dancer takes your breath away. Mythological themes from ancient Greece, woman as warrior, interpretations of the masterpieces of Chopin and Gluck; are dances of a dream state. From these dances it is easy to trace our dance lineage.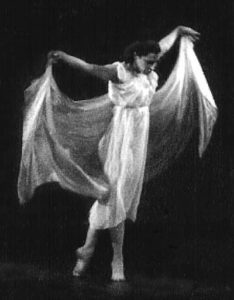 ORATORIO (1961)
Charles Weidman
"This light and lyrical finale reverently celebrates the spirit of life."   –Wendy Liberatore Daily Gazette
Set to Bach's music of the same name, the "Oratorio" is a quintessential work of Classical Modern Dance. The pure lines and flowing steps embody the music and create an atmosphere of reverence and joy. Maude Baum and Company performed this piece in St. Petersburg and Tula, Russia during their 1992 and 1993 tours.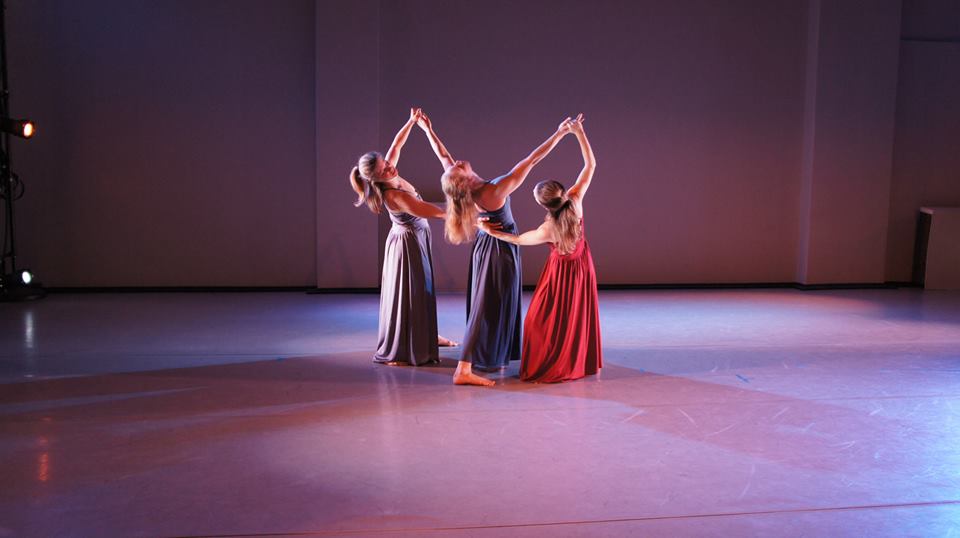 SOMETIMES IN MY MIND... ALWAYS IN MY HEART (2002)
Maude Baum
"... seems to deal with secret obsessions... Her (Baum) portrait was simultaneously believable and troubling as much as it was fascinating."      -Wendy Liberatore, The Daily Gazette
The work is four solos but Ms. Baum created it as a quartet, performed like a thread weaving through fabric. The work delves into the inner landscape of the present day Eve. The performers have often quipped that Ms. Baum saw their inner-most issues and laid them out for all to see.
So, the enduring question remains... does art imitate life or life imitate art?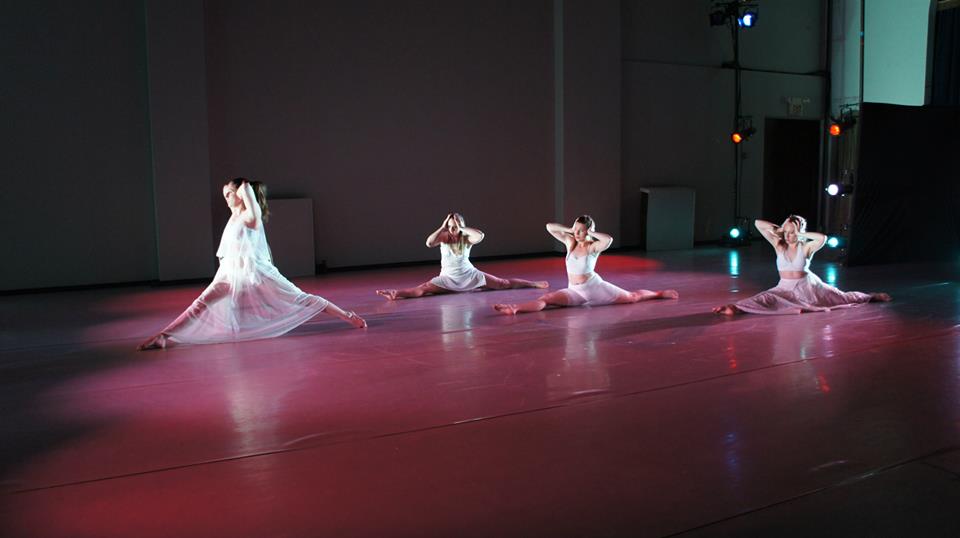 ENNUI (1982)
Maude Baum
"... work that explores the two-dimensional personality - one's internal turmoil and one's external facade".
-Wendy Liberatore, The Daily Gazette
This intensely dramatic duet is a solo for two women. The audience sees the exterior facade of a quiet woman and at the same time shares the terror and pain in her soul.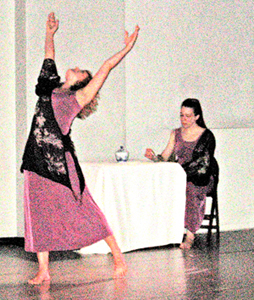 SCARIFICATIONS (1988)
Kevin Wynn
"... an exploration of the mental and physical struggles of creating art... it was hard to miss the sense of frustration created by the dancers."     -Maggie Ziomek, The Knickerbocker News
Kevin Wynn is one of NYC's hottest choreographers. His blend of street dance with athletic modern dance sends you on a roller coaster ride as you watch the dancers dart, dive, lift and roll over the entire stage; just when you think there can't be an ounce of energy left, they veer off in another direction at lightning speed.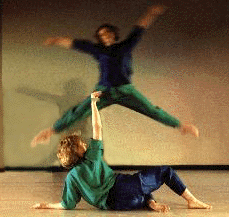 BALLERINA BARBIES (2004)
Maude Baum

"The whole thing was silly. But it was clever how Baum pulled from "Swan Lake" (using music from "Coppelia") to heighten their prima dona status. ...Ballerina Barbies will bring down the house."      -Wendy Liberatore, The Sunday Gazette
This is Maude Baum's latest work... her first Ballet. Barbie dolls come as so many different characters, it's difficult for a girl to know which one she wants to play  on any given day! And It's really hard to live in the shadow of Barbie, ballerina or not.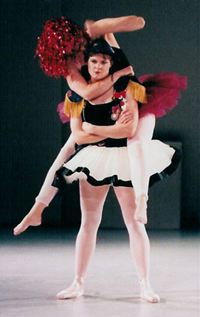 24 HOUR WATCH (1979)
Maude Baum
"... a moving and accurate portrait of the heroic and thankless job of firefighting."      -Wendy Liberatore, The Daily Gazette
A dance 'docudrama' of one of America's unsung heroes... firefighters. They go to war each day without a weapon, trying to control one of the most powerful forces in nature. They are also people with feelings,
families, sassy talk and an unusual amount of waiting in their day, which leads to all sorts of things! Maude Baum collaborated with audio artist, George Kindler, actress Elaine Mara and the six men of C Watch to create an uncanny view of these folk heroes.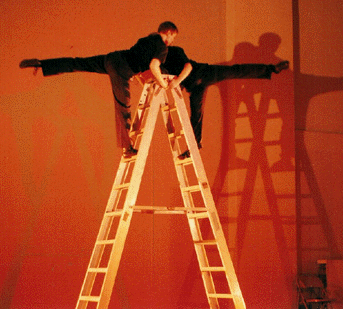 MOTHER, A REQUIEM FOR EARTH (1992)
Maude Baum
"... a drawn out death vigil for the planet... Earth pleads for mercy... yet she is alone and cannot control or escape her fate."     -Wendy Liberatore, The Daily Gazette
A harrowing look at the reckless damage that humans have inflicted on this planet. Maude Baum utilizes an enormous floor covering to represent the earth's surface, resulting in an eerie, striking, sculptural effect as the performers dance both above and beneath the surface.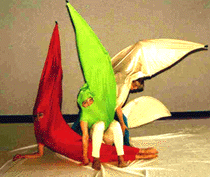 NANIGISMO (1990)
Kevin Wynn
"... solos turn into duets and trios, expansive movement flows into syncopated bounces and slaps, set against the dancers audible breaths."      -Tresca Weinstein, Times Union
Stark, lean and modern. Duets, trios, quartets and solos overlap, switch and collide in warped time. Beautiful and frightening in the same moment, choreographer Kevin Wynn explores elongated time and movement to create a powerful view of people.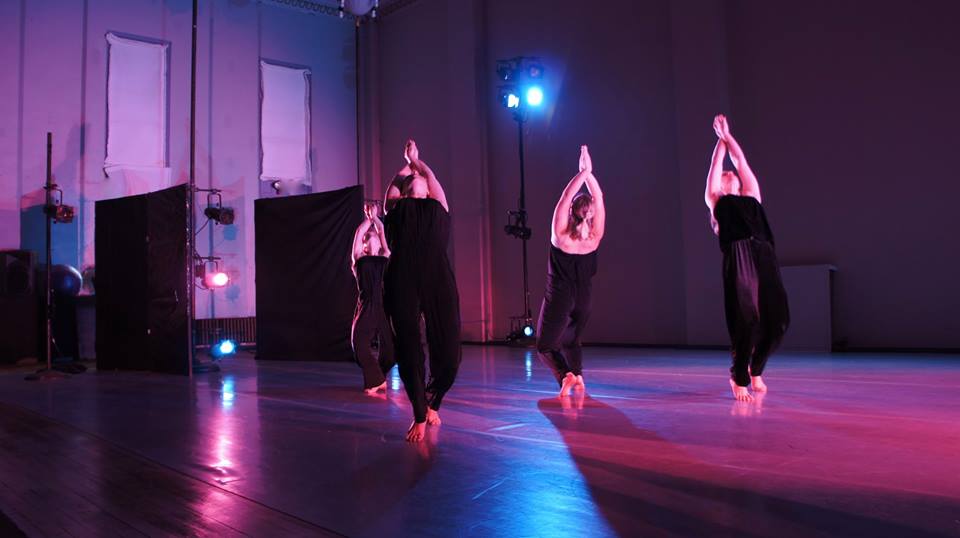 A CRACK ON THE CEILING... HAD THE HABIT OF SOMETIMES LOOKING LIKE A RABBIT. (1984)
James Cunningham
"Your guess is as good as mine as to what this was all about. But it did set the mind thinking, and some of the images created remained vivid long after the dance had ended."     -Peg Churchill Wright, The Daily Gazette
Jamie Cunningham choreographed this light-hearted romp through an imaginary playground. With a rabbit family as a guide, the performers press, thrust, glide and bourree with huge helium filled balloons and their silver "bag". What does it all mean? Who knows, but it's such fun to go along on the journey.
PATHS (1988)
Maude Baum
We choose the paths we follow and carry our limitations with us. We repeat some experiences, leave others behind. How do we get where we want to go when the door is open and we will not pass through? Maude Baum took a long, hard look at struggling to find the "right" path to follow in an environment of too many choices. Dark and disturbing, this performance sends chills up your spine.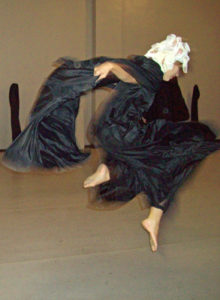 MOTHER ANN, THE MORNING STAR OF THE SHAKERS (1993)    Maude Baum
"... offering a rare glimpse into the world of the Shakers... from thanksgiving to contrition to ecstasy... a living monument to Albany's Shaker Heritage".
" Tis a gift to be simple, tis a gift to be free." The Shakers embraced the virtues of equality for all, hands to work, and a life of simple and complete spirituality. Local history has never been more exciting! Mother Ann is an uplifting story of one woman's courage and conviction in the face of harsh adversity.
Rage (1979)
Maude Baum

"Sternly impassioned and rebellious."  –Minister of Culture, Tula , Russia
Maude Baum collaborated with sculptor and composer David Friedman, composers Kevin Bartlett and George Kindler, and photographer Louise Krasniewicz to design an otherworldly view of breaking the mold and the chaos is can cause.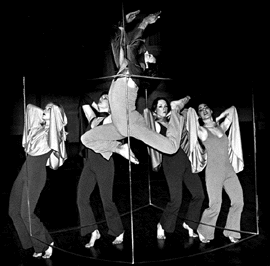 Spare Change (1979)
Maude Baum
"Sternly impassioned and rebellious."  –Minister of Culture, Tula , Russia
"Spare Change" is the final movement of Maude Baum's "RAGE"  trilogy.  "Spare Change" explores the endless hours of life spent performing the routine tasks required to be able to spend precious moments of pure ecstasy and crazy fun. The running dances tell the tale of the multiple tasks and difficult mutations of the tasks that we all routinely participate in day after day. These tedious yet necessary activities afford us the moments that we hopefully enjoy to the fullest, when they come! "Time for you, time for me, time for us and so much time spent keeping pace.  Is this the darkness or the light?"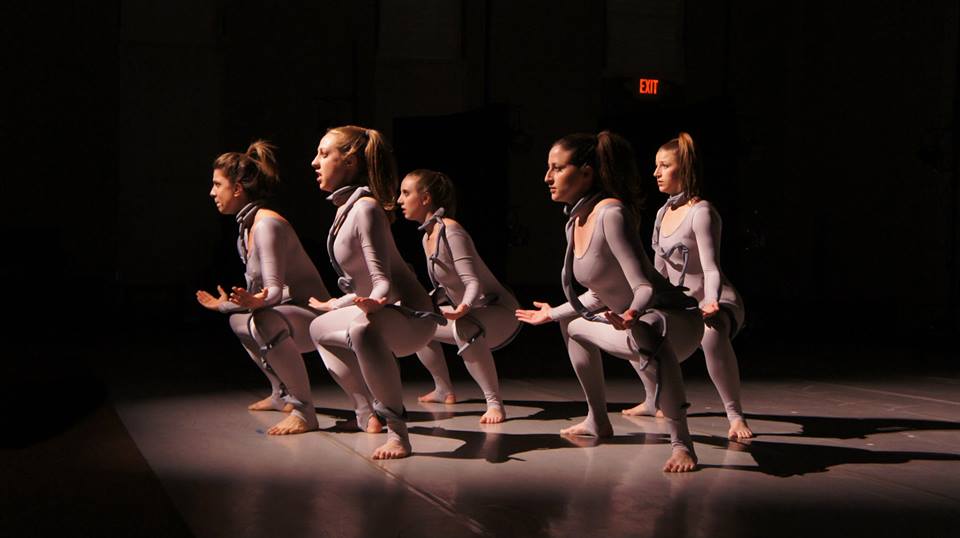 SONGS I REEELY LIKE (1997)
 Maude Baum
"The songs are familiar, but the dances incorporate the daring physicality that is Baum's signature." -Tresca Weinstein, Times Union
Maude Baum decided to create a suite of dances to some of her favorite songs. The dances are her imaginings while listening to the music, not an interpretation of the music or lyrics. The juxtaposition creates some unusual suggestions.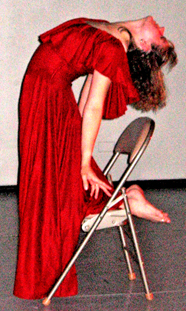 AESOP'S FABLES (1978)
Jamie Cunningham
"Jamie Cunningham's playful choreography and goofy characterizations appeal to children, yet 'Fables' has a stylish wit that speaks to adults"      -Mae G. Banner, Metroland
Choreographed by Jamie Cunningham with an original music score by Persichetti; this dance-theatre work will enchant young and old alike. The dance is structured improvisation, the narration is vivid, the music is moving, the costumes are of various historic periods, and the original animal masks by Janet Harreld are stunning!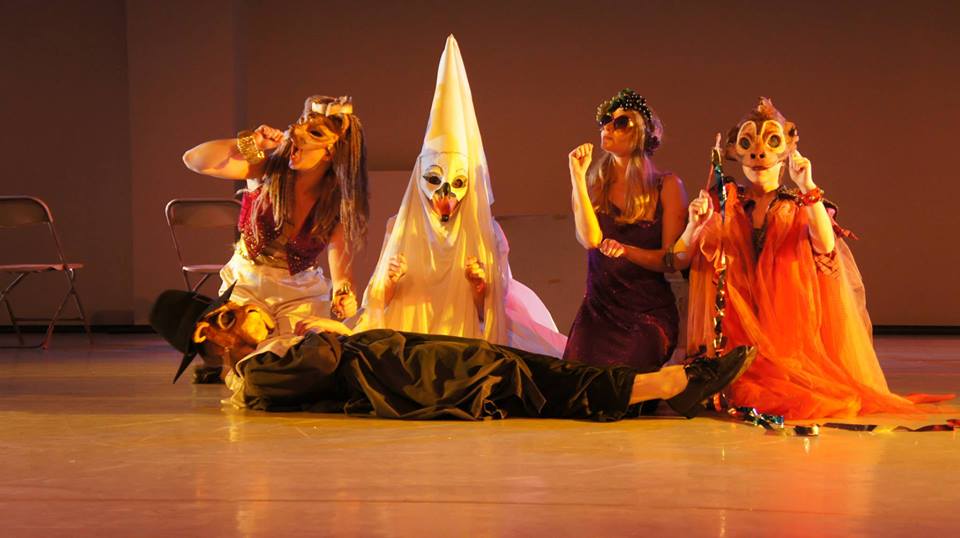 SUMMER LIGHT (1986)
Cliff Keuter
"... a sweeping tribute to the caring relationships among woman... large gestures, full expression and extreme contrasts in motion..."      -Maggie Ziomek, The Knickerbocker News
Choreographed by California Artist Cliff Keuter, this ethereal dance of summer's snow blends classical Modern with the romantic elegance of Tayloresque Modern Dance. Silk dresses and lush movements create a poignant moment to remember.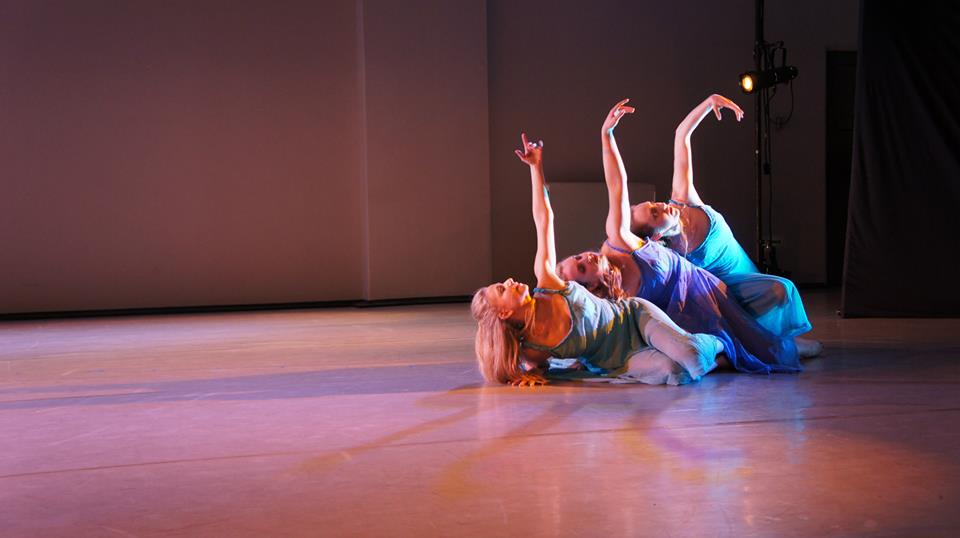 ARE WE FLYING YET? (2002)
Maude Baum

Does evolution really evolve or is it a fluke, or a mistake —made the best of? Maude Baum's off kilter view of evolution comes home in this innocuous work about a mother bird urging her two baby birds to leave the nest. Don't be fooled by its naive feeling and gentle movement. The subtext is very clear and unsettling.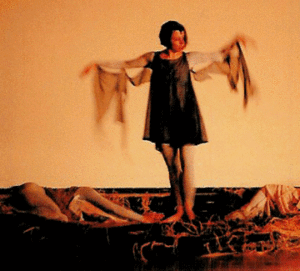 SPLENDOR IN STONE (1995)
Maude Baum
The New York State Museum commissioned 'Splendor in Stone' to accompany it's exhibit of the same name for the 1995 Imagination Celebration. The exhibit, by New York state geologists, is micro photographs of the strikingly beautiful insides of New York State Rocks. Drawing her inspiration from the myriad of colors and shapes, Maude Baum's choreograpy explores the timeless wonder of the stones. Set against a backdrop of slides from the exhibit, the dancers embody the bizarre and fascinating shapes of the stones. An original score by Michael Christopher makes this colorful work sparkle.
BRAVE NEW DANCES - Stretching the Boundaries of Dance Theatre! (each Nov.)
Maude Baum and Company Dancers and invited guest artists
BRAVE NEW DANCES is a glimpse at the first draft of dance theatre works created by members of Maude Baum and Company Dance Theatre and invited guest artists. These are experimental and innovative works in progress, rather than polished repertory pieces. BRAVE NEW DANCES is a forum for choreographers to take creative chances, stretch the boundaries of their craft and to push the limits of dance theatre. Discerning questions are asked by each choreographer before the concert. Audience members are asked to answer this questions and/or include other comments and questions raised by the piece in a written format after each work is shown. The performance concludes with an informal reception where audience members and choreographers mingle and discuss the work!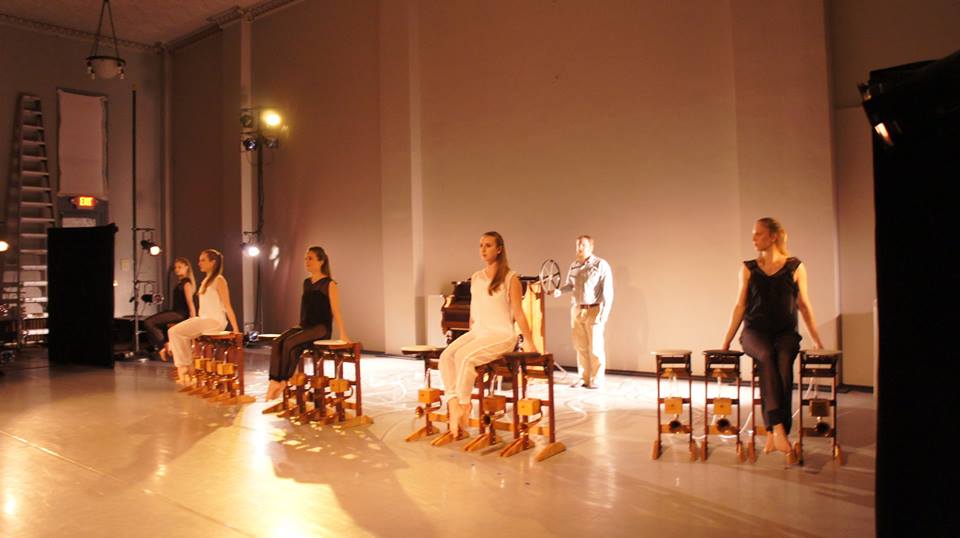 FOODFACE (1993)
Maude Baum
"... ranks as one of Baum's most unconventional but best concocted works... one of those rare works that you can't help but be swept up into... shocking, compelling and very enjoyable."     -Wendy Liberatore, The Daily Gazette
Maude Baum created a performance art work of dramatic dialogue, monologue, dance, food preparation, eating, feeding and music; to play on an underlying feeling that our obsession with food may be getting
out of hand. The dancers shop for food, prepare food, eat food, juggle food, abuse food, fantasize about smells and tastes and even dance with food. It's just plain silly!
LITTLE KINGS (1983)
Tandy Beal
"... a powerful modern dance piece that makes comments on the tedium and violence of everyday life".
-Eleanor Koblenz, The Daily Gazette
Tandy Beal stirred up a kettle of weird happening for the little kings in their own kingdom. Dance and theatre combine to show the subtext of the facade of royalty.
VIRGINIA (2003)
Maude Baum
One of Maude Baum's newest works VIRGINIA is based on memoir texts of Virginia Woolf. The performers recite, dance, share text and become one with the words in this sensitive albeit irreverent look at one of our important 20th Century Woman Writers.
VIEWS (1999)
Maude Baum
Maude Baum and videographer Ralf Passcucci collaborated to create an amusing inner-city romp with live dance and taped street, restaurant, back alley and traffic interchanges.
DEEP ICE (1998)
Maude Baum
"... meant to relate the cool and fearsomeness as well as the crystalline beauty of ice... Baum is certainly adroit at expressing emotion and a sense of cold and dank prevailed."      -Wendy Liberatore, The Daily Gazette
Maude Baum used the architectural shapes, movement, forms and sounds of ice flows and jams to create this surreal dance.