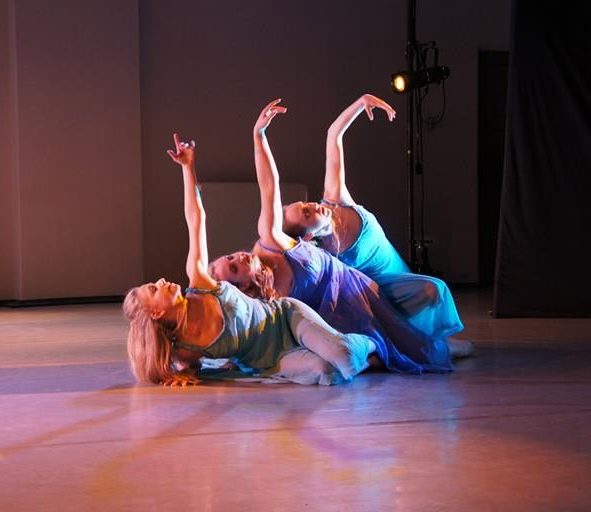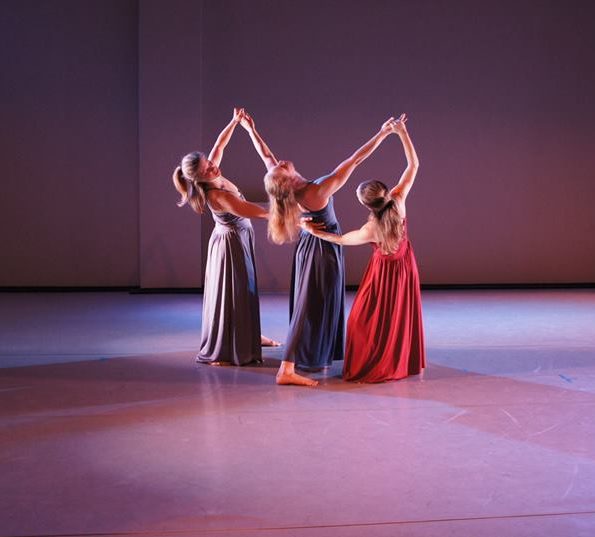 Maude Baum and Company Artists
MAUDE BAUM has been working in the field of Dance Theatre for over 45 years. A founding member of eba and Artistic Director of Maude Baum and Company Dance Theatre (winner of Metroland "BEST OF" Regional Dance Company); she holds a Master's Degree in Dance and Related Arts and a Dance Masters of America teaching certification.  Ms. Baum headed the UAlbany Dance Program for several years before devoting full time to eba. Ms. Baum was honored with the 2009 Girl Scout Trailblazer Award, 2003 Women of Excellence Award for Distinguished Career, 2001 Regional Artist of the Year Award and Choreographer of the Year 2000 by Metroland Readers; to name a few. Ms. Baum's work has been presented internationally since 1982 in Egypt, Turkey, Russia, England and Guatemala; and on tours in Turkey, Spain, Italy and Greece. In the U.S., her choreography has been presented at Soundance, St. Marks Dancspace, Artpark, Dance Theater Workshop, DIA Art Center, WAX and the Lake Placid Center in New York; at Footwork's in L A and the Industrial Ballet in San Francisco, CA. She was first Chair of the NYS Dance Association and member of NYSCA AIE Panel. Teachers in the U.S., Russia, Morocco, South Africa and Turkey use Ms. Baum's Arts in Education work. CA. She was first Chair of the NYS Dance Association and member of NYSCA AIE Panel. Teachers in the U.S., Russia, Morocco, South Africa and Turkey use Ms. Baum's Arts in Education work.
---
ORIANA CARRAVETTA began dancing at JAM Dance & Fitness Center in Great Neck, New York at age 8 where she learned jazz, tap, ballet, and hiphop.  During her time at JAM, she did many local dance competitions and performances focusing primarily on contemporary and modern dance.  Oriana attended college at SUNY New Paltz where she participated in "Fresh Dance", a student choreographed performance sponsored by SUNY's Dance program in 2007 and 2008; she was selected for several jazz and modern dance pieces.  While at New Paltz, Oriana was also part of Culture Shock Dance Troupe, a dance group known for its hiphop, salsa and reggae style dance.  Culture Shock performed at various events on the New Paltz campus as well as in the local community. Most recently, Oriana trained at Alvin Ailey Extension in New York City; she had the opportunity to work with choreographer Jennifer Archibald in a contemporary dance workshop in 2014.  The workshop concluded with a performance at the Alvin Ailey CitiGroup theatre.
---
DIANE DEGROAT studied ballet, modern, and jazz dance for over fifteen years, and she has taught dance and choreographed for various community theaters and non-profit organizations in upstate New York and Washington, D.C.  Diane received her B.A. in Politics and Philosophy from the Catholic University of America and her Juris Doctorate from American University in Washington D.C.  She also spent two years abroad as a volunteer in the Marshall Islands and South Africa.  Diane is a staff attorney at the Legal Aid Society of Northeastern New York.  She joined Maude Baum and Co. in 2013, after a ten year hiatus from dance performance.  She is very thankful to Maude and her fellow dancers for sharing their creativity, talent, and humor, and for the opportunity to continue dancing!
---
REGINA MARIE FELIO began her formal dance training at SUNY Potsdam where she earned the Dance Department Scholar Award and graduated magna cum laude with a B.A. in Dance and Mathematics.   Her passion for dance led her to New York City where she earned a Master's Degree from New York University in Dance and Dance Education in 2002.  Regina spent six years dancing at various studious in NYC honing her technical and performance skills.  Three of those years included teaching dance full time at William Alexander M.S. 51, in Brooklyn, NY, while also performing in the downtown Manhattan dance scene.  Currently Regina teaches 7th grade math at Lansingburgh Middle school.  Regina danced with Maude Baum and Company when she first moved to Albany in 2005.  Over the next six years, she began her next role as mother to two energetic and crazy boys.  Regina is thrilled to have reconnected with Maude Baum and Company since the spring of 2012.  She is forever grateful to her husband for    helping make this all work and she is blessed by the many experiences she has gained dancing with Maude Baum and Company.
---
STEPHANIE HIEMEL has been studying ballet and modern dance for over 20 years. She grew up in the Capital District and began dancing with The Malta Ballet Company at a young age. She attended Bucknell University where she received a BA in Art and Spanish with a minor in Dance. While at Bucknell, she was also a dancer and choreographer for the Bucknell Dance Company.   Stephanie then went on to study Jewelry Design in Spain for two years, and now has returned to the Albany area to work as Jeweler and Designer for Estefi Jewelry. Stephanie is thrilled to have the opportunity to perform with Maude Baum Dance Company.
---
ANNA PILLOT FEDAK is a trapeze artist, dancer, choreographer and fitness instructor based in Albany, NY. She has danced with dANCEpROjECt (Holland, Michigan), Grosso Modo (Queretaro, Mexico), Richard Rivera-Physual, Valerie Green Dance Entropy, and People Who Move (New York, NY). Her choreographic work has been seen in New York City at Green Space Blooms, The Amalgamate Artist Series, St. Peter's Church, Movement Research Open Performance; at various venues in the Capital Region, including the Albany Barn, The eba Theater, The Spa Little Theater as a finalist with Nacre Dance's So You Think You Can Choreograph 2014, and at Troy High School, as well as internationally with Grosso Modo. In the air, Anna specializes in swinging, fixed and dance trapeze. She has worked for Cirque Du Soleil, Marquise Productions, Seano's Circus Theatricks and has performed throughout the Northeast Unites States in Philadelphia, New York City, and in various venues throughout the Capital Region. 
---
ABBY TODD began her professional career while attending the acclaimed Dance Departments of the State University of NY, Brockport, and Middlesex University in London.  In addition, to Maude Baum & Company, Abby dances for Loose Change Dance Collective with whom she recently performed at the NYC Dance Arts Festival and Rochester's Fringe Festival.  She has been blessed to perform at Walt Disney World in multiple shows as Minnie Mouse and for Nickelodeon pop star, Victoria Justice.  Her energy, professional expectations and vibrant staging have led her to be one of the Capital Region's most sought after and uniquely qualified choreographers.  This year her work will be shown in "The Drowsy Chaperone", "The Producers", "Annie" and "Beauty and the Beast" to name a few.  Most recently her work has led to a partnership with Proctors Theatre and the national tour of Motown the Musical working with residents of Wildwood Programs.
---
LANA VASILJEVIC began her training at the Pacific School of Ballet in Southern California. She gained professional ballet experience through training with Orange Country Contact International, Croatian National Theatre, and the American Ballet Theatre. Lana continued her dance education and training at University of California, Berkeley where she pursued a B.A in Dance and Performance Studies and Psychology. She studied Modern, African Diaspora Movement, Capoeira, Contact Improvisation, Laban/Bartenieff Movement Analysis, and Physical Theater under world-renowned artists, including Anna Halprin, David Zambrano, Alvin Ailey Dance Co, Akram Khan Co and many more. Lana collaborated on numerous exploratory projects around the SF Bay Area and choreographed "Come Out Swinging" in 2012 at UC Berkeley - a fully-produced piece under the direction of Joe Goode which earned wide acclaim. Lana also teaches and competes in International Ballroom Dance and was awarded finalist status at the 2013 USA Dance Nationals in Los Angeles. Lana joined eba Dance in the fall of 2015.
---
CARLA WASBES has been affiliated with eba since 1998 as student of hip hop, tap, and modern.  In 2000, she graduated with a B.S.M.S. in Physical Therapy and a minor in dance from Russell Sage College and Sage Graduate School.  Shortly after graduation, Maude hired her to teach Hip Hop technique and Hip Hop Aerobics for eba.  From that connection, Carla was hired by various studios, fitness organizations, and professional sports dance teams to teach and choreograph.  She last choreographed for BND in 2008 after the birth of her first child. Three beautiful and creative children later, she was inspired to choreograph and perform in Brave New Dances after watching her little ones dance to live music all summer and being in awe at how easy it was for them to dance from the heart.
---